Posts for tag: root canal treatment
By John Leitner DDS
October 16, 2016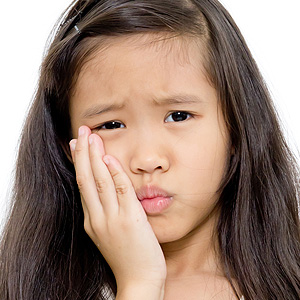 Primary (baby) teeth don't last long. But despite their short life span, they do a number of important things, like enabling a child to eat solid food. But perhaps their most important long-term function is "paving" the way for their permanent replacements.
If one is lost prematurely, though, the permanent tooth might not come in properly aligned. That's why if a primary tooth is in danger of loss due to decay or injury, we'll do our best to save it.
But that could get a little tricky if the infected or damaged part of the tooth is the innermost pulp. If it were an adult tooth, the best course might be a root canal treatment: access the pulp, clear out the diseased tissue, and then fill the space with a special filling. But with a primary tooth (or a young permanent tooth for that matter) that may not be advisable.
That's because the pulp plays a more important role in a child's tooth than an adult's. Its nerves and other tissues stimulate dentin growth; a full root canal could disrupt that growth and weaken the tooth in the long run.
With a child's tooth, we proceed carefully depending on how infected or damaged the pulp might be. If it's only slightly exposed or not at all, we try then to remove as much decayed tooth material outside the pulp as necessary, then apply antibacterial agents or dentin growth stimulators.
If we do have pulp exposure, we'll try to remove only as much of the affected pulp as necessary through a procedure called a pulpotomy. This technique will only be used if the remaining pulp looks healthy or restorable to health.
If not, we may need to perform a pulpectomy to remove the entire pulp. Most like a typical root canal, it's a last resort: without the pulp, dentin growth could be stunted and the tooth won't develop as healthy as it should.
Of course, the best approach is to prevent teeth from developing such problems in the first place. So, be sure to practice effective daily hygiene with your child and keep up regular dental visits beginning at age one.
If you would like more information on treating decayed primary teeth, please contact us or schedule an appointment for a consultation. You can also learn more about this topic by reading the Dear Doctor magazine article "Root Canal Treatment for Children's Teeth."
By John Leitner DDS
March 04, 2016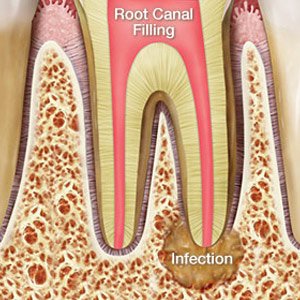 Most first-time root canal treatments achieve their purpose in saving an internally decayed tooth and extending its life to match those of the patient's non-decayed teeth. Occasionally, though, a root canal-treated tooth may become re-infected by decay.
There are a number of reasons for this: the permanent crown meant to add further protection against decay may have been delayed, giving bacteria an opening to re-infect the tooth; it's also possible the original seal for the pulp chamber and root canals after filling wasn't sufficient to prevent bacterial contamination.
There's also another reason that's very difficult to foresee — the presence of narrow, curved root canals in the tooth that can pose complications during the procedure. Some of these known as accessory or lateral canals branch off the main canals to create a complex network that's difficult to detect during the initial procedure. If they're not cleaned out and filled during the procedure any tissue trapped in them can remain infected and ultimately die. If these canals also open into the periodontal membrane at the attachment between the teeth and bone, the infection can spread there and become a periodontal (gum) infection that can trigger future tooth loss.
Fortunately, a reoccurrence of infection isn't necessarily a death sentence for a tooth. A second root canal treatment can correct any problems encountered after the first treatment, especially complications from accessory canals. It may, though, require the advanced skills of an endodontist, a dental specialist in root canal problems. Endodontists use microscopic equipment to detect these smaller accessory canals, and then employ specialized techniques to fill and seal them.
If you encounter pain or other signs of re-infection for a tooth previously treated with a root canal procedure, contact us as soon as possible. The sooner we can examine and diagnose the problem, the better your tooth's chances of survival by undergoing a second root canal treatment.
If you would like more information on tooth preservation through root canal treatment, please contact us or schedule an appointment for a consultation. You can also learn more about this topic by reading the Dear Doctor magazine article "Accessory Canals."